About
We study and teach contemporary communication, in all its aspects, formats, and participant frameworks. Our work is solidly rooted in the study of human "languaging" using a range of modalities. We specialize in multimodal analyses of social interaction in institutional settings and strategic communication. We have a dual interest in analyzing and improving human lives. Inspired by the Danish literary critic Georg Brandes' (1842–1927) demand that his contemporaries should work with the infinitely great in the infinitely small ("Det uendeligt store i det uendeligt små"), we strive to translate our nerdy analysis into practical advice for professional practice. And our stakeholders agree.
Our mission is to
explore human interaction by conducting basic research in a wide range of interactional settings,
develop human interaction by producing research-based suggestions for improvement of interactional practices, and
advice and/or facilitate practitioners and policymakers on how to co-create best practices concerning strategic communication.
We collaborate on interdisciplinary research and development projects with researchers from different fields, as well as with professional practitioners in public authorities, non-governmental and private companies, including multinational and global corporations. We also encourage and empower students, graduates and colleagues to develop spin-off projects and businesses.
Our vision is to put our research to use thus contributing to better communication in any part of society that we explore. With this vision of positive impact comes great responsibility: Therefore, whether the aim is increased effectiveness and efficiency in day-to-day organizational work, such as face-to-face and virtual teamwork, improved innovation or organizational trainee processes, or better instructional practices in teaching situations, we take our moral responsibility as researchers very seriously paying close attention to benefitting those we work with.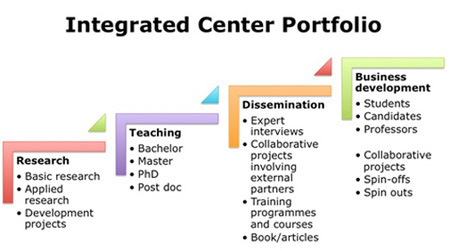 Our integrated centre portfolio
To fulfil our mission, we do basic and applied research, and on a smaller scale, we also conduct development projects.
We teach and supervise (Bachelor, Master, PhD and postdoc level).
We disseminate to the greater public and relevant target groups, and we collaborate with external partners. This work ranges from giving expert interviews and writing books and articles to conduct collaborative projects involving multiple external partners, and usually also students, in identifying best practices and developing training programmes.
We are very inspired by the ecosystem in Silicon Valley, so doing business development (in collaboration with students, candidates, professors, and external partners) within some of our collaborative projects may result in spin-offs and spin-outs. We have a special focus on equipping students professionally to create their StartUps.